Story
Palestinian women show how tradition and innovation intersect to promote sustainable food production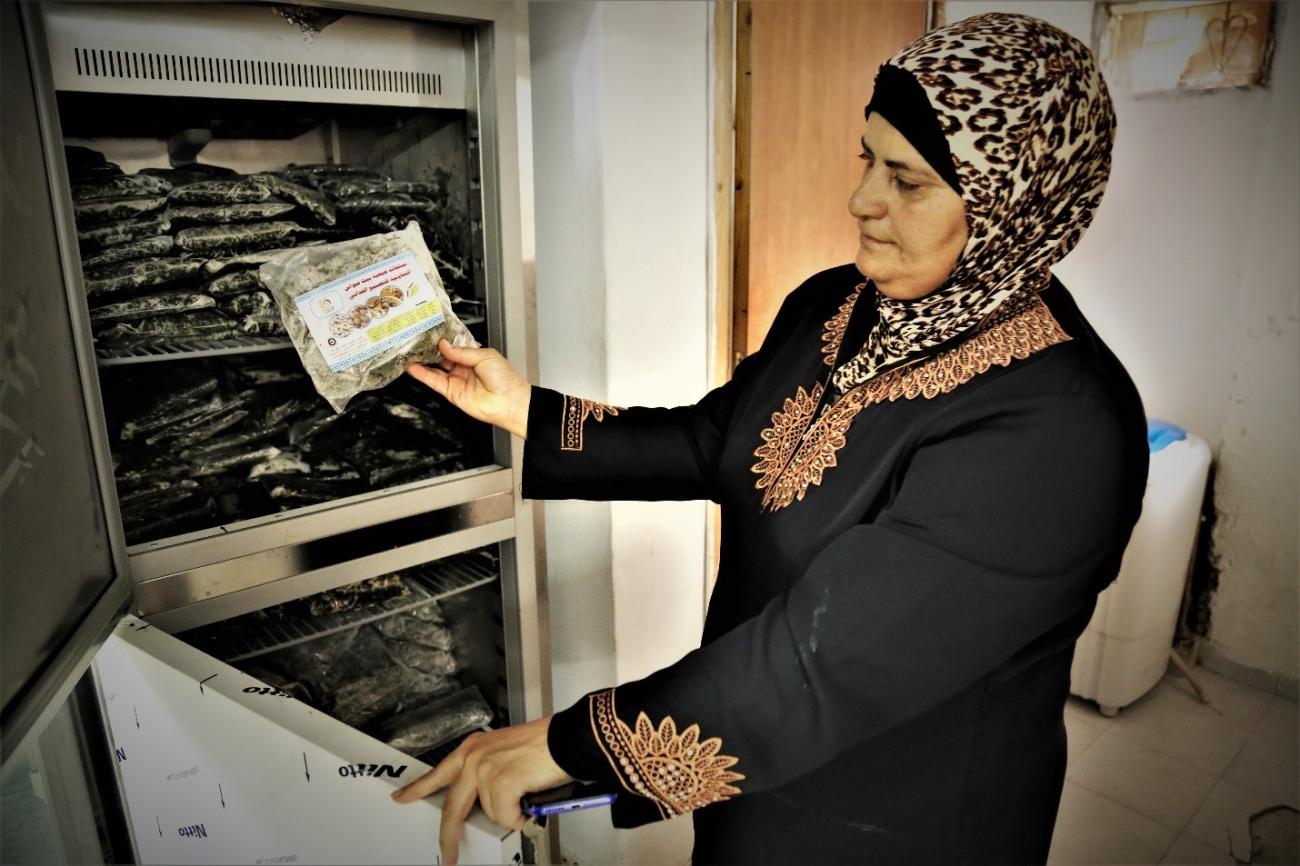 What started out as an informal gathering of female relatives and friends brainstorming ways to earn extra income becomes a successful women's cooperative.
Al-Aqbabah is a Palestinian village that lies between Ramallah and Jerusalem, where Nabiha Samara lives with her husband and children. Nabiha is a full-time government employee working in Ramallah and supports her family along with her husband, also a full-time worker. As one can imagine, Nabiha has become somewhat of an expert in juggling her numerous responsibilities. This is in part thanks to her ambitious drive, which, despite her busy schedule, would also lead her to become the founder of a successful women's entrepreneurial movement.
It all started in 2019 after Nabiha invoked an informal gathering of her female relatives and friends from the community to brainstorm ways to earn extra income in their free time. Soon after the first meeting, other women had caught word of the initiative and expressed their interest in joining. Thus, Beit Emmaus Women's Cooperative Association was born.
Initially the cooperative had aimed to produce and sell ma'amoul, traditional Arabic cookies stuffed with dates or nuts usually served during Islamic holidays. Later in 2019, the women uncovered the growing potential of the processing side of the producer value chain, specifically freezing foods such as pastries and vegetables like mulukhiya and spinach. After adopting this new change in direction, demand exploded. Customers began encouraging Nabila and the cooperative's treasurer, Najiyeh Idrees, to take their sales to the next level by making their products readily available at various points of sale and not just by direct order.
It was a great idea, but the rise in demand would in parallel require more resources to enable increased production and storage capacity which the women lacked. Around the same time business started booming, the of Food and Agriculture Organization of the United Nations (FAO)'s started implementing pilots under its largest intervention to date in the West Bank and Gaza Strip, the Multi-Donor Agribusiness Programme (MAP) titled "Reform and Development of Markets, Value Chains and Producers' Organizations." These pilots aimed at promoting innovative small-scale businesses focusing on women- and youth-led businesses. [1] It just so happened that the cooperative fit the profile of beneficiaries being sought, and by the end of 2019, it received a fresh batch of freezers and packaging machines to enhance their packaging and freezing techniques, and achieve their new vision.
Soon after receiving their new equipment, the cooperative switched its main production line to mulukhiya, a leaf popularly used in Palestinian cuisine. In fact, it is so popular that it usually needs to be imported in order to satisfy local demand. Thanks to the support from the pilot, the women were able to pack and freeze nearly double the amount of the tasty leaf that they had in 2019 after one year, bringing the total amount from 500 to 900 kilograms, and up to two tons in 2021 just between the months of January and September. This translates into an 80 percent (around ILS 21 000) improvement in productive capacity and, more importantly, a real impact on profit gain by the cooperative's members. But the cooperative did not stop there. Using their extra gains and business development guidance and support received from FAO, the women sought out ways to further expand their activities by adopting more energy-efficient solutions such as solar panels, allowing them to save even more on production costs and offer competitive prices, both locally and internationally.
In addition to bringing greater financial stability, the intervention has also brought the women greater social and psychological well-being. Raja, an original cooperative member known affectionately by her friends as Em Mahmoud, is a case in point. After her husband passed away in 2019, she was unable to sustain her livelihood and support the basic needs of her son and daughter. Working with the cooperative, Raja started making her own income. Her dedication to the business over the years allowed her to take on more and more responsibilities, until she reached the rank of production line manager with a fixed monthly salary of USD 640. It enabled her to pay for her daughter's education and plan for the future of her family resiliently. As a widow, Raja's newfound security allowed for a sense of independence which many women in her situation find difficult to attain.
Today, the cooperative includes 25 members, based both across the West Bank and Jerusalem, over 96 percent of whom are women, tackling everything from marketing to sales and production. With an average monthly income of ILS 1 500, cooperative members and their families reap improved access to opportunities in life and increased resilience to bounce back in times of need.
Raja, along with the team leader of the cooperative, told FAO about exciting plans to continue expanding production and rise up to meet the demands of foreign markets. But just as important as the monetary achievements are the intangible ones, such as a sense of reward and pride, as many of the members agreed on. After all, creating a new legacy, especially for future Palestinian female generations, is no small feat.
[1] The Multi-Donor Agribusiness Programme (MAP) is funded by the Danish Representative Office, the Netherlands Representative Office, the Office of the European Union Representative, the Swiss Agency for Development and Cooperation and the Spanish Cooperation Agency for International Development,
UN entities involved in this initiative
FAO
Food and Agriculture Organization of the United Nations