Story
Helping families get nutritious food during COVID-19
A UN program for Hebron, in the occupied Palestinian territory, provides complementary food assistance to 265 families, enabling them to eat more nutritiously.
Amina is a 28-year-old woman who lives with her husband and their two boys and one girl in an area of Hebron city that is directly ruled by the Israeli military.
Known as H2, this area has seen high violence and tight restrictions on the daily life of Palestinians, pushing many to leave. Of the 33,000 people who still live there, many are poor and depend on assistance to protect and support their families. The COVID-19 pandemic has exacerbated their hardships further.
Families in H2 often cannot access enough adequate and nutritious food. Those with special nutritional needs – pregnant and lactating women and small children – are particularly affected.
Amina is unemployed and her husband Najeeb is a casual worker whose wage is extremely low. "We are left with only a few shekels after we pay the house rent and other fees," Amina says with distress. Acknowledging her own unhealthy eating habits, she adds: "I normally ensure that the little money we have is used to feed my children, so that they can grow healthy, and my husband, to give him some energy to work."
In April 2020, a month after COVID-19 first hit the occupied Palestinian territory (oPt), the World Food Programme (WFP), supported by the oPt Humanitarian Fund (oPt HF), stepped in to provide complementary food assistance to 265 families in H2, including Amina's. WFP provided families with electronic vouchers, helping them buy nutritious food from local shops.
"The voucher has changed our eating habits. Now, I can cook a proper meal for my children not just on Fridays. It has also given me a chance to think about my own health and eat better." (Amina)
Each of the selected families included a pregnant or lactating woman or a child under five. They could redeem the vouchers, worth 35 Israeli shekels (US$10.30) per person every month, for specific types of healthy food or vitamins.
Ghina (2.5), Amina's youngest child, has a vision deviation; she needs special attention and care. Her favorite meal is chicken, which she now has a chance to eat on weekends. On other days, Amina cooks vegetarian stews, such as spinach, potatoes with tomatoes, and vine leaves.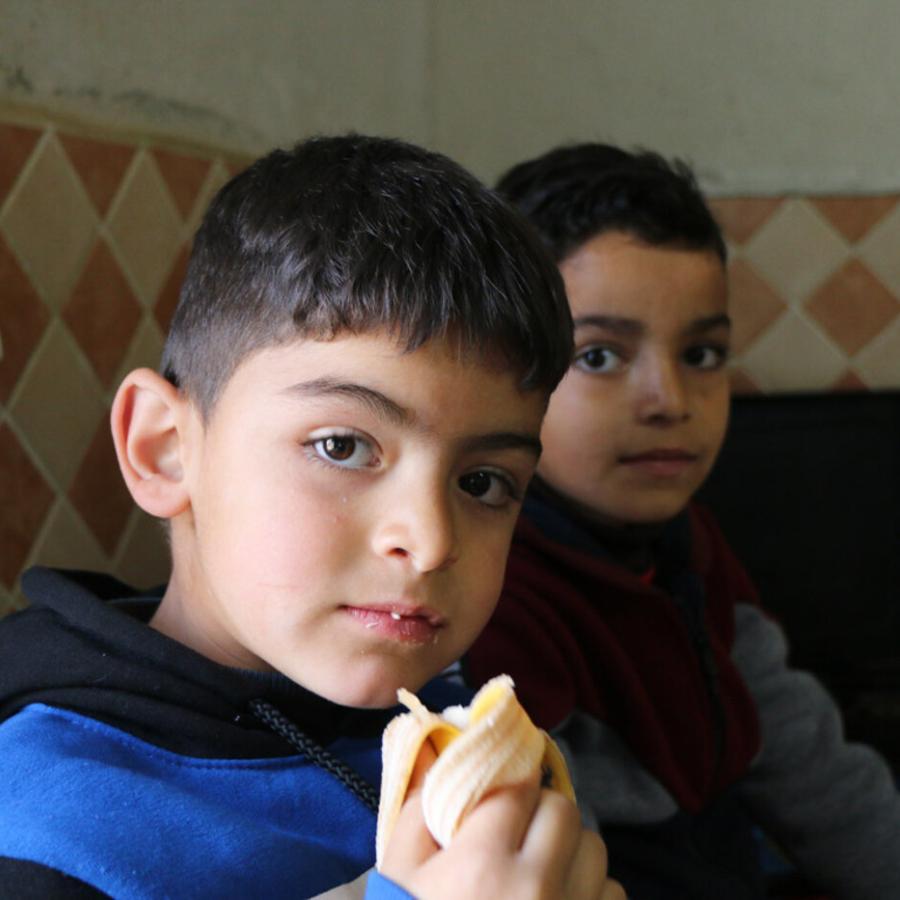 To maximize the vouchers' impact, WFP has helped form a community of women eager to exchange views and ideas on health and nutrition. They run a chat group where they discuss the prevention of anemia, healthy cooking and other related topics.
Amina has acute calcium deficiency, which causes severe pain in her body joints. Thanks to the vouchers and equipped with new knowledge, she now buys calcium-rich food, such as dairy products and Tahina (sesame paste).
"I used to think that the expensive products we can't afford are the only healthy products," Amina admits. "Now, I know how to substitute the nutritional values found in meat with veggies, dairy products, pulses, and fruits. I enjoy reading every chat message because it enhances my knowledge about food nutrients."
UN entities involved in this initiative
OCHA
United Nations Office for the Coordination of Humanitarian Affairs