Story
Security Council calls for urgent, extended humanitarian pauses in Gaza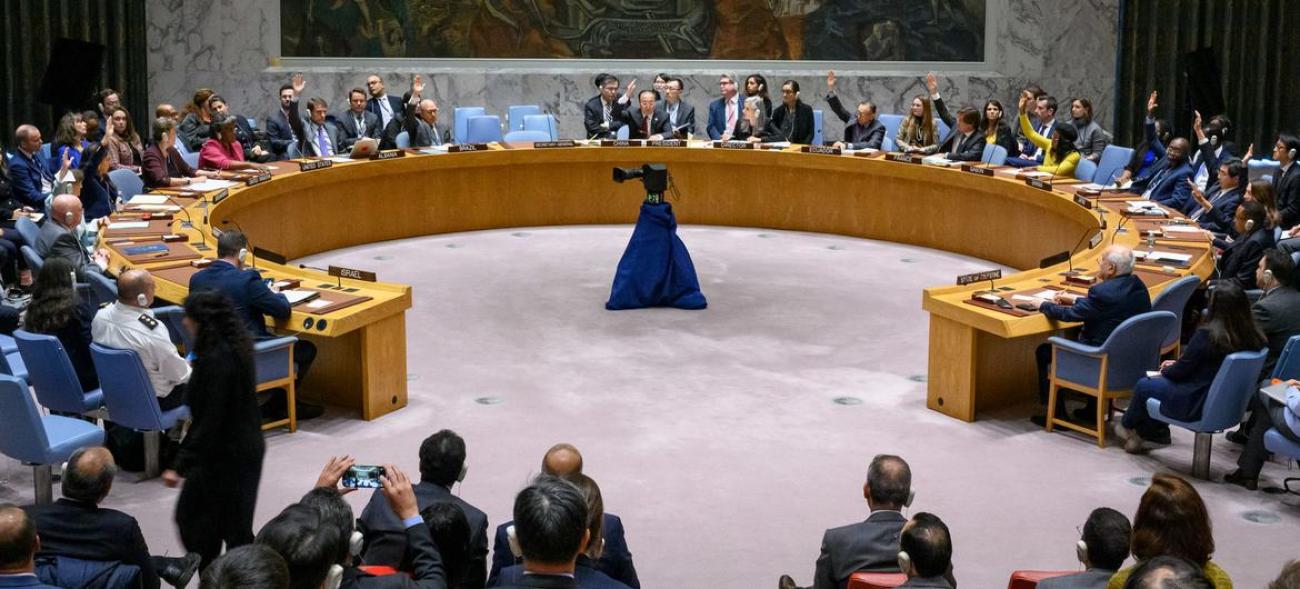 The Security Council passed a resolution calling for the immediate release of all hostages held by Hamas and for urgent and extended humanitarian corridors 
The Security Council passed a resolution Wednesday calling for the immediate release of all hostages held by Hamas and for urgent and extended humanitarian corridors throughout the enclave to save and protect civilian lives. The affirmative vote came after four unsuccessful efforts to take action last month.
The first UN Security Council meeting resulting in action over the multi-faceted crisis and conflict centred on the Gaza Strip, has ended. You can watch the meeting in full here.
HIGHLIGHTS
The UN Security Council succeeds in finding unity, adopting resolution 2712 on the Israel-Palestine crisis that began on 7 October, with 12 members voting in favour, none against and three abstentions (Russia, United Kingdom, United States), calling for "urgent and extended humanitarian pauses and corridors" in Gaza for "a sufficient number of days" to allow full, rapid, safe and unhindered access for UN agencies and partners
The Council "calls for the immediate and unconditional release of all hostages held by Hamas and other groups, especially children, as well as ensuring immediate humanitarian access", by the terms of the resolution
The Council, by additional provisions in the text, calls on all parties to refrain from depriving the civilian population in Gaza of basic services and aid indispensable to their survival, consistent with international humanitarian law
The resolution does not condemn the Hamas attacks of 7 October which began the current wave of violence and battle for control of Gaza
The Council rejected an amendment proposed by Russia, with five votes in favour, one against and nine abstentions
"Our vote today translates into real human lives," said the ambassador of Malta, penholder of the newly adopted resolution
Ambassadors from the UK and US separately regretted to note that the draft failed to condemn Hamas and voiced support for civilian protection and rapid aid delivery measures
Russia's ambassador said a real ceasefire is needed and "the Council will need to make a decision on further steps", including what observers to send to the conflict area and which UN contingent will be involved
"This madness must be brought to an end," said Palestine's Permanent Observer to the UN, adding that: "It is time for peace"
Israel's Ambassador said the crisis could be brought to an immediate end if all Israeli hostages are returned unscathed and Hamas laid down their arms and turned themselves in
Resolution 'detached from reality': Israel
Israel's Deputy Permanent Representative, Brett Jonathan Miller, was the last to speak at the meeting.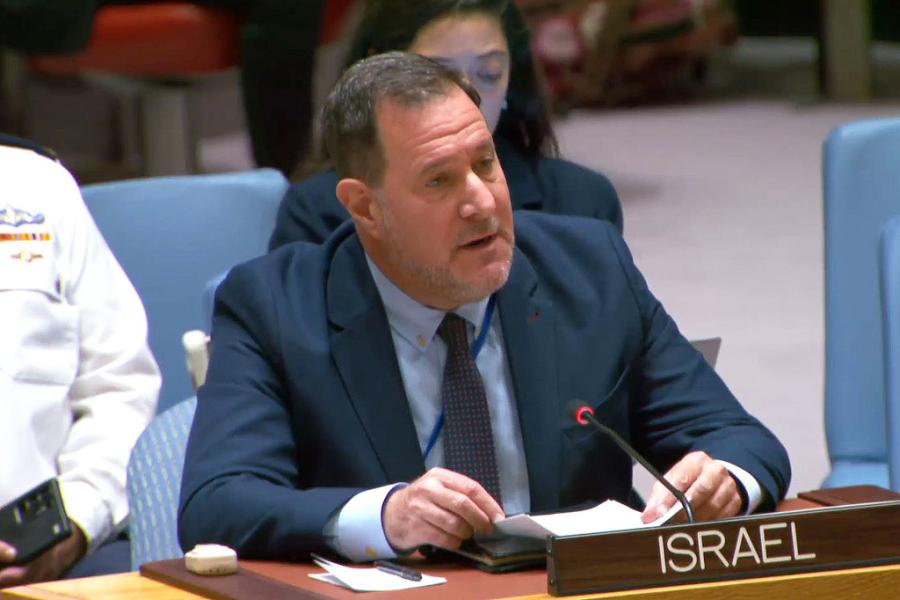 He said the resolution was "detached from the reality on the ground" and "falls on deaf ears when it comes to Hamas and other terrorist organizations".
He noted that the Council has met nearly 10 times in the six weeks since Hamas's "barbaric invasion" of Israel, which it still has not condemned as the world's premier body for peace and security.
"The resolution focuses solely on the humanitarian situation in Gaza. It makes no mention of what led up to this moment," he said. "The resolution makes it seem as if what we are witnessing in Gaza happened of its own accord."
He added that Israel's top priority is to bring the hostages home, "and seeing as Security Council resolutions hold no sway with terrorists, Israel will continue to do whatever it takes to accomplish this goal."
Mr. Miller said the war would end immediately "should Hamas choose to lay down their arms, turn themselves in and handover the hostages unscathed".
'This madness must be brought to an end': Palestine
Riyad Mansour, Permanent Observer of the observer State of Palestine, said the Security Council should have called a ceasefire by now and been convinced that there is no military solution.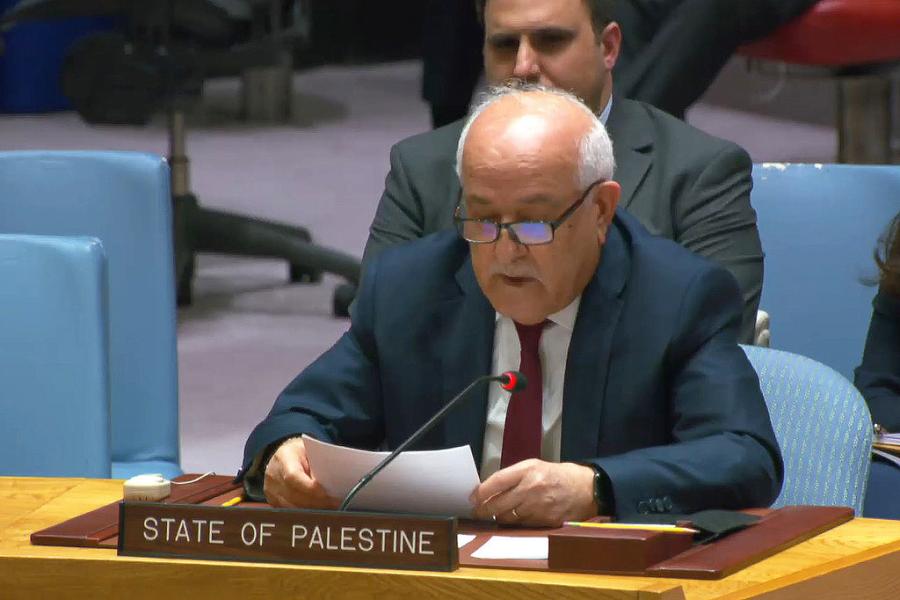 The Council "should have heeded the call by the UN and every humanitarian organization on Earth calling for a humanitarian ceasefire," Mr. Mansour said. "It should have at least echoed the call of the General Assembly for an immediate, durable and sustained humanitarian truce leading to a cessation of hostilities."
What is happening will have long term effects that no one should underestimate, he said.
"It is a failure of humanity of terrifying magnitude," he said. "But for now, the urgency is to save lives. Stop the killing, stop the forced displacement, allow humanitarian aid in and ensure humanitarian access, protect civilians and civilian infrastructure."
He said Israel's plan has been revealed in statements, leaked memos and op-eds.
"Let us stop pretending we don't hear what this government is saying," he said. "Its plan is the continued dispossession, displacement and denial of rights of the Palestinian people. To complete the Nakba."
Recognizing that is the first step to defeat such plans, he said.
"This madness must be brought to an end," he said. "It is time for peace."
China: Turn resolution into action 'to the letter'
Ambassador Zhang Jun of China, whose country holds the Council presidency for November, said, in his national capacity, that the Council should have adopted a more robust resolution earlier. Despite one member blocking progress on consensus, he said the new resolution matters.
Recalling the dismal situation in besieged Gaza, he urged Israel to end hostilities against civilian facilities, including hospitals, and to restore basic supplies, such as water and fuel, as soon as possible.
"The key rests on the implementation of the resolution and its provisions "to the letter", he said.
Russia: Pause 'cannot replace' a ceasefire
Russian Ambassador Nebenzia said getting aid and humanitarian assistance into Gaza is essential, especially given the deteriorating situation on the ground, with dwindling fuel supplies and Israeli operations that are shelling schools and storming Al-Shifa Hospital.
"Humanitarian pauses cannot replace a ceasefire or truce," he said, adding that the US has consistently blocked efforts to cease hostilities, paralysing the work of the main UN organ to maintain peace and security.
Regretting that under Washington's pressure the resolution has been hollowed out, Mr. Nebenzia said "it's a disgrace that the Council has squeezed out such a weak call."
Concerned about the real-life effects of the resolution, he wondered who would be monitoring safe corridors and civilian protection on the ground.
"The Council will need to make a decision on further steps", including what observers to send to the conflict area and which UN contingent will be involved, the Russian Ambassador said, adding that: "We will not allow this issue to be hushed up and swept under the carpet."
Mozambique: Fundamentals still to be addressed
Deputy Ambassador of Mozambique, Domingos Fernandes, expressed conviction that the resolution was an important step towards mitigating the suffering of civilians in Gaza.
"However, we are mindful that this resolution does not address the fundamentals of the humanitarian crisis prevailing in the Gaza Strip," he added.
He also reiterated his nation's opinion that Israel and Palestine can only resolve their differences through peace and dialogue.
"It is our strong conviction that the brotherly peoples of Israel and Palestine deserve and can live side-by-side in security and peaceful coexistence in strict respect for the decision and the resolution of the Security Council," he said.
UK: Resolution 'will save lives'
Barbara Woodward, Ambassador and Permanent Representative of the UK, said too many children are losing their lives, and it is right for the Council to call for a pause long enough to get lifesaving aid to those who need it.
"This will save lives," she said. "We need a collective effort to get aid in."
However, Ms. Woodward regretted to note that the resolution did not condemn the Hamas attacks on 7 October, she said, explaining her delegation's abstention.
"We will continue to work with Council members to resolve this crisis" and to create a horizon to "make the two-State solution a reality", she said.
US: Horrified at failure to condemn Hamas attacks
United States Ambassador Linda Thomas-Greenfield thanked Malta and other Council members for leading the initiative.
However, she said her country could not vote "yes" on a text that did not condemn Hamas or reaffirm the right of all Member States to protect their citizens from terrorist attacks.
She was horrified that a few Council Members "still cannot bring themselves" to condemn the barbaric Hamas terror attack against Israel on 7 October.
"While this text does not include a condemnation of Hamas, this is the first time we've ever adopted a resolution that even mentions the word 'Hamas'", she said.
Ms. Thomas-Greenfield said the US is working tirelessly to facilitate the safe return of all hostages, including nine missing Americans and one US citizen.
The Security Council voted on the Malta resolution, with 12 members in favour, none against, and three countries abstaining: Russia, the United Kingdom and the United States.
The resolution has passed.
UN entities involved in this initiative